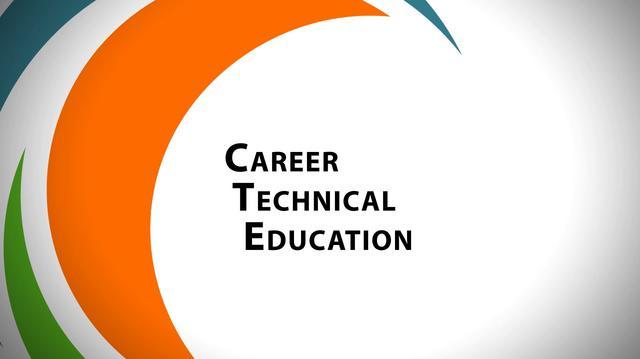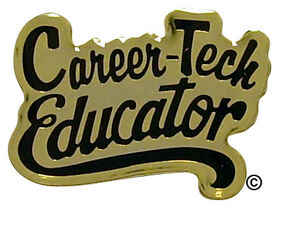 Technology in the Music Classroom
As a future music educator, I have found it difficult to find new and engaging programs and applications for incorporating technology in the music classroom.  After doing a little research, I stumbled across this wonderful guide for music educators.  [Ultimate Free Music Technology Resources Guide] is an outstanding guide to music technology!  I learned about several new apps and websites for teaching, but that's not the best part.  This guide is not limited to music educators!  It offers information on technology for non-professional musicians, musicians that are not classically trained, and even music producers!  You must take a look at this guide!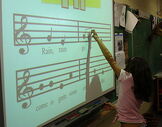 I have found this $0.99 app on iTunes which could be useful in elementary schools where Ipads are readily available for students.  I think our kids tend to get bored when we simply place a music book in their hand and start teaching them the note names.  I found this little gem that could be so much more entertaining and turn learning note names into a game!  Children love playing with technology so why not use that to our advantage? It's called Notes for Little Composers and here is the link to iTunes with more detail. -Amber Conaway https://itunes.apple.com/us/app/notes-for-little-composers/id417921653?mt=8
There is an interesting score app available on iTunes that allows you condense all of your musical scores into one place.  How much easier would this be for us as educators for us to transport?! You can also write in your own personal markings just like on a paper score! -Amber Conawayhtt
ps://itunes.apple.com/au/app/forscore/id363738376?mt=8
Sibelius has a new music software called Groovy Music which attempts to teach children music creation.  It uses ear training, orchestration, and composition assembled through friendly shapes. - Amber Conaway
.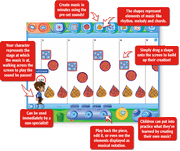 In the world of music education, notation software is an extremely valuable resource. It allows music directors to write musical exercises and performance music to cater to the specific needs of an ensemble. Finale is the go to music notation software for the average musician, educator and composer. It is very user friendly, offers a large variety of instruments, and it is easy to print and share electronically. Sibelius is more suited to the professional composer or tech savvy educator. This program offers a high level of customization, wide variety of instrumentation and styles, and the layout can be altered to facilitate educational uses and contemporary music. Symphony Pro is the notation software for the music writer on the go. This app is user friendly, offers a strong selection of instrumentation and has an on screen piano/guitar interface all for the low price of $9.99! Two majors down sides to this app are that you don't have the accuracy of using a mouse on a music staff and it is often updated to fix glitches. - Charles Bailey --- www.finalemusic.com --- www.sibelius.com --- www.symphonypro.net
Marching Arts Drill Design
The marching arts activity is currently booming, and there is a high demand for drill writers! 
Most publics school systems have marching arts activities in their high school curriculums and each show has to be constructed by someone.
Some software selections are more popular than others, while various programs have their own distinct features.
Prices often vary depending upon the version and year the software was created.  
Field Artist - www.fieldartistcentral.com/
www.vdrillpro.net/ - VDrill Design Software
Pyware - www.pyware.com/
Pyware is one of the more common, popular, and well-reviewed programs available today.
Each design company also potentially carries multiple versions of their products. The decision is normally based upon what features and display options the designer is looking for when creating visual designs. 
- Tim Sexton
Being a future music educator, I feel it is important to know the pros and cons of technology in music education. The following article shows a viewpoint of technology being good for music education: http://voices.yahoo.com/computers-beneficial-music-education-41613.html
There is an app out there to help students with dictation. This app is called Piano Sight Reading HD. In this app you get to listen to the piano play a given sequence of notes. Then, your job is to place the correct notes on the staff WITH the correct counting. When you think you have it right, tap the play button and you'll get to find out if your musical IQ has increased or decreased. It's really pretty great! The skill developed is Dictation. The users are able to place correct notes with counting on staff after hearing the sequence first.
Another great resource for musicians is smart music! With smart music, students will use the most efficient practice tool on the market. SmartMusic is ideal for woodwind, brass, percussion, string, and vocal musicians of all levels. Play or sing your part with accompaniment, while SmartMusic's suite of interactive practice tools assists with fingerings, slide and string positions, tuning and more. http://www.smartmusic.com/ --Kristen Balschi
Apps for a Secondary Choral/Music Teacher - Ellen Abney
VIRTUAL SHEET MUSIC
https://itunes.apple.com/us/app/virtual-sheet-music/id322312746?mt=8
Virtual sheet music is an app I found that allows you or students to download real sheet music that could essentially be just as usable as a paper copy and your students with ipads, iphones, or ipods could have access to their sheet music all the time in one place. The app has a high rating and it seems to have a lot of really cool features. It comes with some free music already included and then other pieces that are available upon purchase and it's not just the sheet music but MP3 files of accompaniment, etc.
"The Virtual Sheet Music application allows iPad, iPhone, and iPod Touch owners to enjoy the Virtual Sheet Music catalog on the go. Users can download our high-quality digital sheet music and play it off-line as well as listen to and download thousands of MP3 audio files included for any item in the catalog as well as Mp3 accompaniment files to play along available for most music for two or more instruments. PDF sheet music can also be either printed directly from your iPad/iPhone or iPod Touch or sent via email to a regular computer for later printing. You can also send your music through your email as a PDF to print a paper copy if desired. I think this is extremely cool to have access to  all of this music in one place especially for a generation of students who all have and love technology.
The Virtual Sheet Music application has been specifically designed by professional musicians for professional musicians. Its new and optimized page turning system allows this sheet music application to be "really" used during live performances by making it unique in its genre.
Some of the most popular items in the Virtual Sheet Music application include:
Moonlight Sonata by Beethoven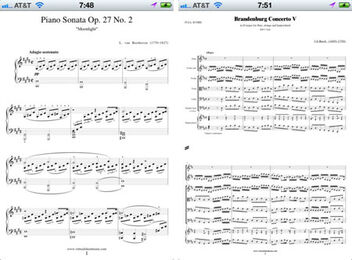 Fur Elise by Beethoven
Meditation by Massenet
Canon in D by Pachelbel
Christmas Carols (over 250 versions!)
Halloween Music
and thousands more.
Virtual Sheet Music offers high-quality digital, traditional and classical sheet music with MIDI and MP3 audio files to download and enjoy instantly and much more. Many of the Virtual Sheet Music items also include MP3 music accompaniment files which allow you to play along with your computer, iPhone, iPod or iPad."
[Ellen Abney]
PIANO APPRENTICE
https://itunes.apple.com/us/app/piano-apprentice/id456471024?mt=8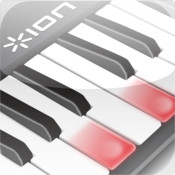 Piano apprentice is an extremely cool app that teaches piano lessons via technology. On an Iphone or an Ipad you can watch and participate in piano lessons on your piece of technology. This is a very useful way for students who don't have constant access to a piano, or who can't afford professional piano lessons. to practice at home, or anywhere really. It has high ratings and a lot of good reviews. This app was really exciting to me for students with the technology to be able to take piano lessons through an app.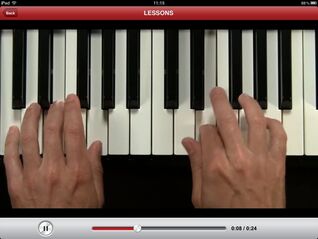 "Learn to play piano the easy way with Piano Apprentice! Piano lesson videos are provided by The Piano Guy, a.k.a. Scott Houston. Just press "Piano Lessons", pick the song you want to learn and he will show you how easy it is to play popular melodies. Start with the Right Hand alone, then the Left. Once those are mastered he will show you how to put your hands together!
If you are using the Ion Piano Apprentice keyboard, the notes will light up along with Scott's hands. Follow the lights and begin playing music instantly!
Or, if you want to learn to read notes, select "Sheet Music" from the home screen. Then, you can choose to watch a basic tutorial on reading notes, or just dive right in to the song of your choice. Speed controls are provided for controlling the playback tempo, so you can learn at your own pace.
Of course you can just have fun playing the piano and making up your own melodies by selecting "Piano Jam"."
[Ellen Abney]
METRONOME Ϟ
https://itunes.apple.com/us/app/metronome/id416443133?mt=8
This metronome app is useful for any musician to practice with. With technology now we don't have to purchase a metronome we can just purchase an app on our devices. This app claims to be the most accurate metronome app availabe. It has tons of great reviews and has a sleek nice look and cool features. I think this is a great app for any music student or teacher to have a metronome right there at their fingertips at any time.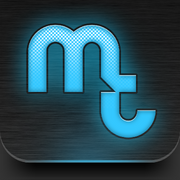 "MetroTimer is the most accurate metronome app on the App Store. It provides highly accurate audio and visual feedback, and easy to use timer to track your practice sessions. MetroTimer has been measured to be more accurate than any other metronome app for iOS. Most app store metronomes are derived from Apple sample code included with the iOS SDK (Software Development Kit). And regretfully, this code fails to account for all the factors that can cause small inaccuracies to build up over time. MetroTimer, created by a software company that specializes in clock time measurement and regulation, is guaranteed to meet laboratory standards for accurate timekeeping. Feature Highlights:
● Tested with clock time regulation equipment
● Practice timer to track your practice sessions
● Visual indication allows you to "see" the beat
● iPhone LED flash visual feedback support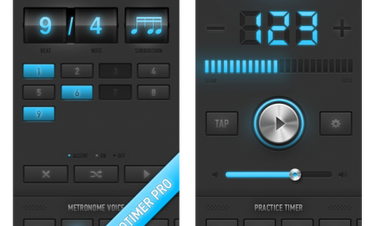 ● 8 metronome sounds including human voice
● Background mode, blends with other audio
● Tap tempo functionality
MetroTimer Pro (in-app purchase) adds these features: ● Custom time signatures
● Accents and subdivisions
● Interactive beat editor"
[Ellen Abney]
Jason Cole
Edit
Finale is the industry standard in music notation software, enabling composers, arrangers, musicians, teachers, students and publishers to create, edit, audition, print and publish musical scores.  http://www.finalemusic.com/
An Ewi is an electronic wind instrument that allow players to switch from one instrument to another with the press of a button. This instrument would prove useful in a band scenario where the director could learn one fingering system and be able to play all the parts of ever wind player's instrument in the band! The director could use himself as a musical example of what the passages are suppose to sound like. 
http://www.akaipro.com/product/ewiusb
Malletkat is the worlds leading MIDI percussion controller. Say you're playing a piece of music that has a harp part and you don't have the thousands of dollars to spend on a harp. Just buy a Malletkat and you can plug in any type of sound you want. This would be a great investment for band directors that cant afford extremely expensive instrument, but have an abundance of percussionists.
http://www.alternatemode.com/malletkat.shtml
Shelley CantrellEdit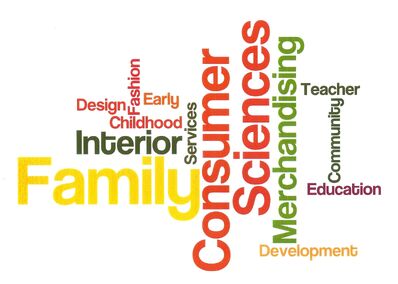 In my classroom students will be expected to complete many different task on any given lesson wether it be sewing or cooking. ClassDojo is an excellent way for me to keep track of how each student is responding to the task each day. I love the idea of it being public for parents to check because, I would like to know how my child is acting in the classroom, good or bad. I can also keep track of daily attendance with just a quick click. This can also encourage students to know they will be rewarded with simple few words each day such as: on task, participating, helping others, working hard and persistence.
http://teach.classdojo.com/#!/dashboard/528939923476b66d1e00001b
I will not only be giving students the oppurtunity in my classroom to experience cooking but give them the correct tools or knowledge to understand how to eat heathly. The website I found that I love to go to myself is called Choosemyplate.org. This gives you everything there is to know about what to prepare for a delicious healthy meal and also how to cook it. This is something I could use with my students to encourage food nutrition with technology. http://www.choosemyplate.gov/about.html

In Family and Consumer Science we have a club called FCCLA (Family, Career and Communtity Leaders of America) I found a website called Capzles that is excellent for capturing all the fun times students will have through a rich multimedia experience using videos, photos, music, blogs and documents. This will help promote our club in an exciting way rather than just a simple webpage. Capzels will bring the entire experience to life in a way that may encourage others to join and this will in return help the community grow as a whole.  http://www.capzles.com/     
Community content is available under
CC-BY-SA
unless otherwise noted.